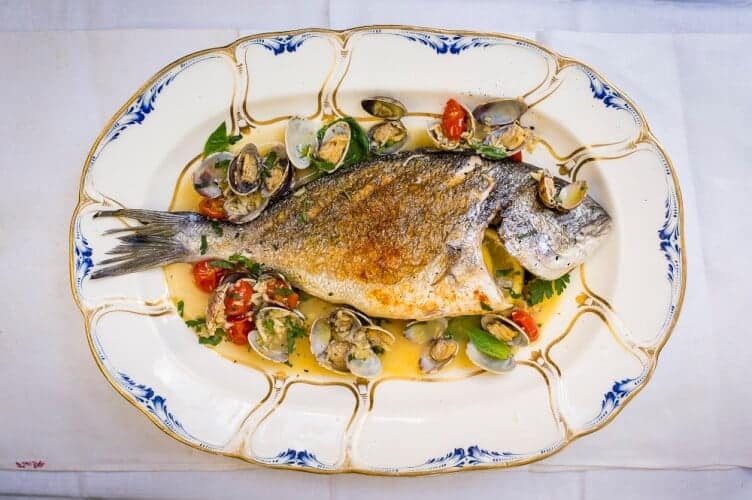 Italiaanse visschotel: gypsy Acqua Pazza
David Conte, inwoner van het eiland Ischia, vertelde dat honderden jaren lang de boeren van het eiland – of zigeuners zoals hij ze noemt – in de haven stonden te wachten op het terugkeren van vissers. In de hoop overgebleven of afgedankte vis te bemachtigen. Zij kookten de verschillende vissen in een pan met water, aardappelen, olijfolie, knoflook en diverse kruiden: gypsy acqua pazza. Inmiddels is het recept uitgegroeid tot een verfijnde Italiaanse visschotel, waarin een hele vis wordt gebruikt en witte wijn aan toe is gevoegd. Lekker met een groene salade en geroosterde courgettes.
Dit recept is afkomstig uit:
Nina Capri Nina Parker, Uitgeverij Orion €29,99
Fotografie: Paul Winch-Furness
Details
Ingredients
1 zeebrasem (of zeebaars), schoongemaakt
2 el olijfolie plus extra om te frituren
1 biologische citroen, voor de helft in plakjes gesneden
5 teentjes knoflook, fijngesneden
3 ansjovisfilets
4 cherrytomaten, gehalveerd
8 verse kokkels, schoongemaakt
½ glas witte wijn
100 ml groentebouillon
flinke snuf paprikapoeder
handvol basilicumblaadjes
1 el peterselie, fijngehakt
zeezout en versgemalen zwarte peper
Preparation
1

Verwarm een grillpan op middelhoog vuur. Breng de vis op smaak met olijfolie, zout, peper en steek de schijfjes citroen in de holtes van de vis. Grill de vis 1-2 minuten in de pan goudbruin aan de ene zijde en 2 minuten aan de andere zijde.

2

Haal de vis voorzichtig uit pan en leg op een bord opzij. Verwarm genoeg olijfolie in een pan om de vis in te kunnen bakken, op middelhoog vuur. Voeg zodra de olie heet is de knoflook en ansjovis toe. Breek de ansjovis in stukjes met een houten spatel of pollepel en laat ze een minuutje bakken.

3

Voeg de tomaten toe en verwarm twee minuten. Voeg de vis toe en dan de kokkels, wijn, bouillon, paprikapoeder, zout en peper. Doe de deksel op de pan en verwarm 8-10 minuten.

4

De vis is klaar wanneer het vlees van de vis loskomt van de graat, en de kokkels zijn geopend. Breng eventueel nog op smaak met extra zout en peper. Verdeel de basilicum en peterselie over de vis en serveer.
Author:

Redactie

Posted:

oktober 2, 2016