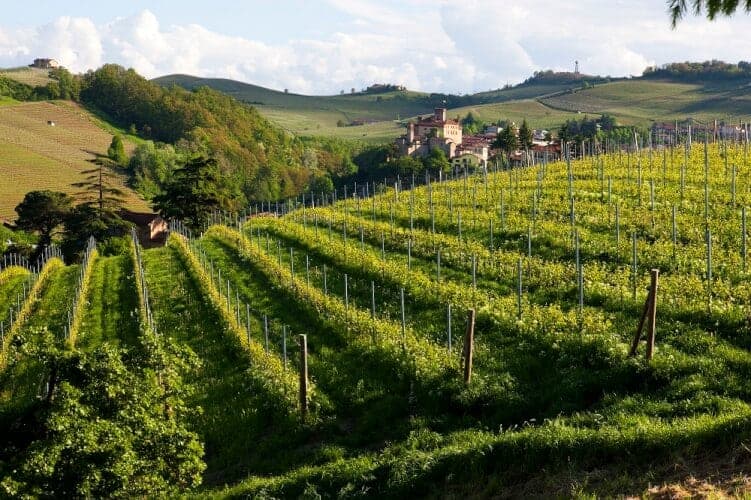 Wijnreis door de Barolo-streek in Piemonte: dit wil je doen
Piemonte is misschien wel het rijkste culinaire gebied van Italië. Er komt veel lekkers vandaan, zoals de witte truffel, Nutella en beroemde wijnen als barbaresco, barbera en barolo. Wij maken een tour door het Barologebied waar we Alba, Monforte d'Alba en Bra bezoeken.
We rijden over glooiende heuvels, langs verstilde dorpjes, middeleeuwse kerken, torens en kastelen. Met een beetje hulp van het navigatiesysteem vinden we ons startadres voor de Barolotour, Albergo dell'Agenzia. Het hotel ligt op een prachtige locatie in Pollenzo, naast de Universiteit van Culinaire Wetenschappen. Hier komen Italiaanse studenten en chef-koks uit heel Italië bijeen om de Italiaanse eetcultuur te bestuderen, met de nadruk op Slow Food. Serieuze zaken, dus! De Slow Foodbeweging is ontstaan in het nabijgelegen Bra, een gezellig stadje met een levendig centrum en aardige winkeltjes. Het restaurant van ons hotel is dan ook een echt Slow Foodrestaurant. In de enorme bijbehorende wijnbibliotheek kun je de beste flessen uit de belangrijkste wijnstreken van Italië zien en proeven. Nog voordat de reis goed en wel begonnen is, zijn we al onder de indruk. Bij aanvang van de tour moeten we een lastige keuze maken: pakken we de Vespa of gaan we voor de Fiat Cabrio? Met in ons achterhoofd de culinaire aankopen die we onderweg willen doen, kiezen we voor gemak en gaan we met de auto op weg.
Alba
De weg naar Alba geeft een goed beeld van de streek. We passeren wijndomeinen en kleine dorpjes (met wijnwinkeltjes). Het moge duidelijk zijn: we zijn in een wijngebied. We bereiken Alba, een stad die dateert van ver voor de Romeinse tijd. Na de komst van de Romeinen ontwikkelde de stad zich in rap tempo en werd begonnen met de eerste wijnbouw. In de middeleeuwen stond Alba bekend als 'de stad met de duizend torens', die rijke adellijke families lieten bouwen om hun aanzien te vergroten. Van die torens is slechts een handjevol overeind gebleven, maar er zijn nog genoeg middeleeuwse bezienswaardigheden, zoals het Palazzo Comunale en de kathedraal van San Lorenzo. Deze dom werd in de twaalfde eeuw gebouwd op Romeinse ruïnes. Ook bijzonder is de Chiesa di San Domenico. De kerk heeft een imposant portaal met driedubbele bogen en binnen vind je prachtige resten van fresco's uit de renaissance.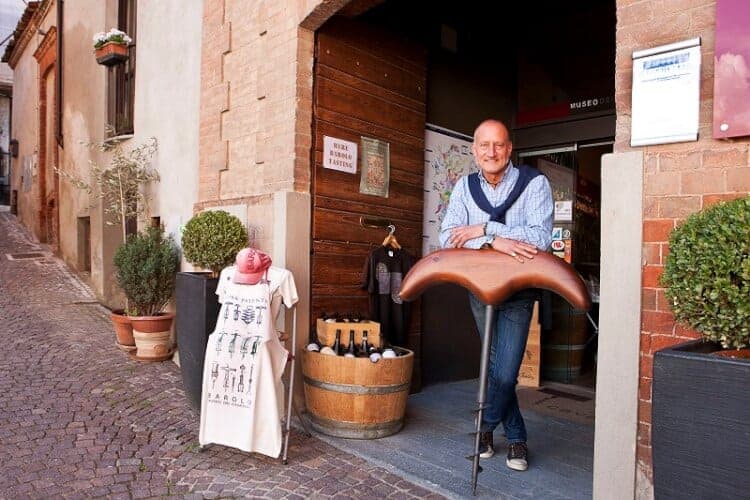 Culinaire strooptocht
Het historische centrum van Alba is een en al bedrijvigheid. In de hoofdstraten, Via Vittorio Emanuele en Via Cavour, is het een komen en gaan van mensen. Er is vandaag markt en de kraampjes staan pal in het centrum opgesteld, vlak voor de deuren van luxe winkels. Voor elke portemonnee wat wils dus. Al snel vinden we een goed adres voor culinaire cadeaus: Tartufo Ponzio, een winkeltje met truffelraspen en heel veel zelfgemaakte combinaties met truffel. De winkel Bianco Rosso Rose biedt een nog uitgebreider assortiment aan goddelijke chocoladetruffels. Wij zwichten voor een zak geweldig gebrande hazelnoten en een witte truffeltapenade voor thuis. Chocolade- en ijsliefhebbers kunnen hun hart ophalen bij Sacchero en met een ijsje in de hand doorwandelen naar het Piazza Michele Ferrero dat aan het einde van de Via Vittorio Emanuele ligt. Dit royale plein met diverse terrassen in de schaduw en de zon, is een uitstekende plek om in de middag met een aperitivo te starten.
Nutella
We kennen Alba als de stad van de witte truffel, maar het is ook de stad van de chocolade! Door een gebrek aan cacao in de Tweede Wereldoorlog kwam Pietro Ferrero op het geniale idee om gebrande hazelnoten toe te voegen aan de chocolade. De Gianduja, zoals hij de nieuwe chocolade noemde, werd een enorm succes. Later is uit de combinatie van chocolade en hazelnoot de wereldberoemde Nutella ontstaan. Zoon Michele Ferrero maakte het bedrijf gigantisch, dat naast Nutella onder andere ook Kinder Surprise,
Ferrero Rocher
en Tic Tac produceert, en werd met een vermogen van 20 miljard zelfs de rijkste man van Italië.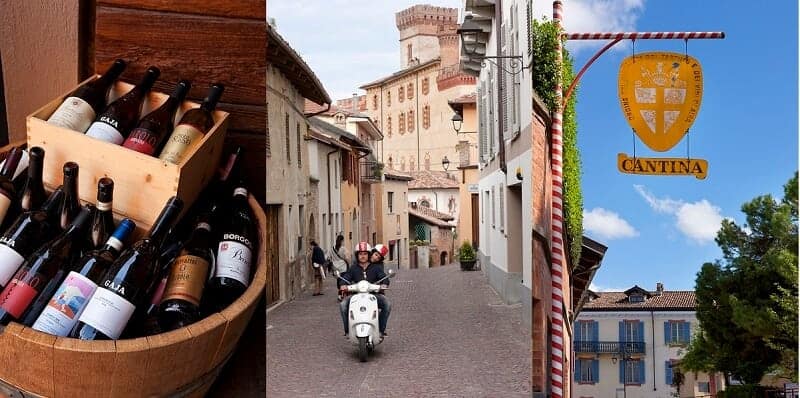 Koning der wijnen
We vervolgen onze route en passeren Monforte d'Alba, een lieflijk dorpje met vele enoteca's en een aantal oude gebouwen. We rijden verder, tot we het slaperige dorpje Barolo bereiken dat charmant gelegen is tussen de beroemde wijnvelden. Het pittoreske dorp ziet er verzorgd uit en is opvallend goed voorzien van cantine, enoteca's en kleine restaurants met terrasjes waar je kunt genieten van de zon en een goed glas van de beroemde wijn die al sinds 1860 'wijn van koningen en koning der wijnen' wordt genoemd.
Franse invloeden
We zetten koers naar het Castello Comunale Falletti, waar het toeristenbureau van Barolo is gevestigd, evenals een beroemde enoteca. Het kasteel werd gebouwd in de tiende eeuw als verdediging tegen de Saracenen en kwam later in handen van de markies Falletti van Barolo. Hier werd de grondslag gelegd voor de barolo zoals wij hem nu kennen. Eeuwenlang werd er in het gebied al wijn geproduceerd van de nebbiolodruif, maar die was onvergelijkbaar met de huidige barolo. De nobele Franse dame Juliette Colbert di Maulévrier, die in 1806 trouwde met markies Carlo Tancredi Falletti, huurde een vinoloog uit haar geboorteland in om van haar druiven droge wijn te maken, naar het voorbeeld uit Bordeaux. Ze schreef hiermee geschiedenis. Toen de markiezin in 1864 overleed, kwam de dynastie van de Falletti's tot een einde. De familie Abbona, die aan de voet van het kasteel al meer dan tachtig jaar en vijf generaties lang wijn maakte, nam het stokje over en zette de barolo wereldwijd op de kaart. Wie het mooiste uitzicht over het gehele wijngebied niet wil missen, moet beslist even naar La Morra gaan. Het dorpje ligt op zo'n 5 kilometer afstand van Barolo en vanaf het Piazza Castello kijk je, met een glas wijn in de hand, heerlijk uit over de heuvels.
Nebbiolodruif
Barolo wordt gemaakt van de nebbiolodruif. Volgens de wet moet een barolo minimaal drie jaar rijpen, waarvan twee jaar in eiken vaten en een jaar op fles. Wijnen van de nebbiolodruif zijn dan ook zeer geschikt om voor een langere periode weg te leggen. Je kunt ze wel twintig jaar bewaren! Om optimaal van de barolo te genieten, schenk je hem over in een karaf (decanteren).
Sterren van de hemel
Aan het einde van de middag nodigt onze fotograaf Adriano ons uit om te komen eten bij zijn Italiaanse vriend Walter Eynard. Deze vriend is niet de minste: hij is chef-kok en heeft al twee Michelinsterren op zijn naam staan. Wanneer we in de schemering arriveren, schijnen feeërieke lichtjes uit de dorpjes in de omringende heuvels ons tegemoet. Mooi! Maar eenmaal aan tafel komt het genieten pas echt op gang. We mogen niet kiezen van het menu, maar worden door Walter getrakteerd op speciale gerechten waarmee hij ons wil verrassen. En dat lukt. De soep, om maar een voorbeeld te noemen, wordt geserveerd in een weckpotje met groenten die in Italië groeiden voordat Columbus Amerika ontdekte. Bijzonder en smakelijk! Pas wanneer de laatste kruimels van het grand dessert zijn verdwenen en we ook een caffè met een glaasje limoncello achter de kiezen hebben, mogen we van tafel. Rollend zoeken we een weg door het donker naar de auto en voldaan beginnen we aan de laatste nacht in dit fantastische gebied.
Slapen
Albergo dell'Agenzia in Pollenzo €€
Dit prestigieuze viersterrenhotel is gesitueerd in een voormalig buitenhuis van koning Karel Albert van Savoie. Bij het boeken van een van de 44 kamers of 3 suites krijg je toegang tot de spa, hammam, fitness en het zwembad. Het Slow Foodrestaurant en wijnbibliotheek van dit hotel zijn beroemd.
Da Felicin in Monforte d'Alba €€
Dit hotel in het hart van de Langhe is geschikt voor wie wil genieten van de natuur en heerlijk eten. Het hotel heeft vier schitterende locaties in het historische centrum van Monforte d'Alba. Het is de ideale plek voor het wijngebied.
3 leuke eetadresjes
Trattoria della Posta
Het parkeerterrein staat vol Italiaanse kentekens en de tafels zijn gedekt met imposante wijnglazen. Hier zit je dus goed. Met mooi weer kun je op het terras genieten van het uitzicht, een verse pasta en een goed glas wijn. Località Sant'Anna 87, Monforte d' Alba
Osteria del Boccondivino
Werkelijk alles wordt hier met liefde en traditie klaargemaakt. De osteria heeft tevens een indrukwekkende lijst aan mooie wijnen. Bij mooi weer zit je in de besloten binnentuin, omringd door bloesemtakken. Aangezien dit adres geliefd is in de wijde omgeving, is reserveren aan te raden. Via Medicità 14, Bra
Grappolo d'Oro
Hier zwaait la mamma de scepter in de keuken en word je bediend door haar zoons. Strijk neer op het royale terras en geniet van een menu dat tussen de € 20 en € 25 kost. Piazza Umberto 1, Monforte d'Alba

Wijnproeven doe je hier
La Banca del Vino: Piazza Vittorio Emanuele 13, Pollenzo
Cascina Ballarin: Frazione Annunziata 115, La Morra
Cantina Morra: Via Castagnito 50, Castellinaldo
Poderi Luigi Einaudi: Borgata Gombe 31, Dogliani
Barolo Cru Resort (Palas Cerequio): Borgata Cerequio, La Morra
Bezoek de hoofdstad van Piemonte! Wij weten precies waar je moet zijn. Bekijk onze reisaanbieding: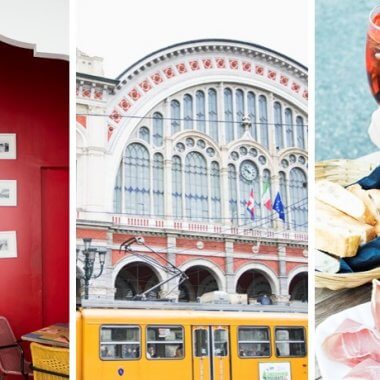 4-daags arrangement in cultureel Turijn
Piemonte is misschien wel het rijkste culinaire gebied van Italië. Er komt veel lekkers vandaan, zoals de witte truffel, Nutella en beroemde wijnen als barbaresco, barbera en barolo. Wij maken een tour door het Barologebied waar we Alba, Monforte d'Alba...
Meer informatie
LEES OOK:
Bewaren
Author:

Redactie

Posted:

oktober 27, 2016